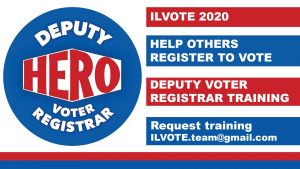 ILVOTE hosts regular monthly phone meetings on voter engagement and election security. Sign up for our email list here and you will receive the registration link for the phone conferences.
Regular ILVOTE meetings will be held on first Thursdays monthly at 7PM CT from September 2019 to February 2020. Voter registrars and those interested in election security are invited to listen, learn and share best practices on organizing and voter registration.
Sign up for the email alerts, call agendas and meeting reminders here.
Follow the Indivisible ILVOTE voter engagement Facebook group here.