Voter Engagement and Registration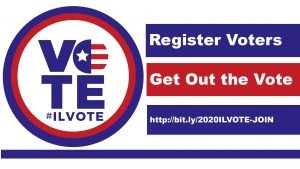 ILVOTE is certified in the City of Chicago and Cook County as a bona fide State Civic Organization for voter registration purposes. In addition, ILVOTE works to increase voter awareness and promote voter turnout for every election at the federal, state and local levels. We achieve our goals by working in coalition with other grassroots partners to host forums, deputy voter registrar trainings, voter registration drives and other public events that are open to all. We encourage individuals to take initiative and do voter registration and awareness whenever possible in their daily lives. We believe that an engaged and informed electorate leads to a successful democracy.
To establish certification for ILVOTE in your jurisdiction so that you and members of your community can become deputy voter registrars through your election authority, please contact Leni Manaa-Hoppenworth at lhoppenworth@indivisibleil.com 773-216-2067
ILVOTE provides extensive resources to engage with and register voters. These materials include:
How to host a voter registration event manual
Illinois voter registration mail in application in English and Spanish
Election Calendar
Voter Guides and more
Check out all our resources and information here.
Sign up for email alerts and get the invite to join our monthly phone conference meetings.
See our network of ally organizations here.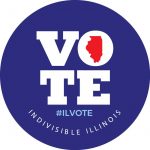 Become a Deputy Voter Registrar
Learn new skills, meet new friends and increase civic engagement.
Why is Voter Engagement and Registration important?
The short answer: the more voters we register, the more voters we can turnout on Election Day. But voter registration is also about ensuring that every American can be an active participant in our democracy. To learn more about the importance of voter engagement and registration, check out this post.
How Can I Register Myself and Others Online?
I want to register voters – what resources are there?
If there's an event or location where you'd like to do voter registration, we have a lot of support to offer. Read our guide to organizing a VR table or event by Karen Goldman.  There's a slide deck on organizing by Helen Celewicz, too.
Are you looking for additional volunteers to help you?  Or have questions? Get social and join the Facebook Group Indivisible ILVOTE.
Want to connect with other ILVOTE organizers across the state to listen, learn and share best practices? Register with ILVOTE here and receive the invite for the regular monthly calls.
We have a carefully researched FAQ for organizers and registrars that will answer your questions about ways of registering people, ID for voting, rules and dates, and much more.
What about materials?  We maintain an annotated resource of printable materials including registration forms, posters, commit-to-vote cards, and more.